Synonyms & Antonyms Task Cards.
Task cards are a go-to resource in classrooms across the country. Teachers love them. Students feel successful completing them. They work for nearly any subject. In short, it's easy to see why task cards continue to gain popularity.
Task Cards are all about PRACTICE. They are cards with tasks that need to be practiced. Task cards can be literacy questions, math problems and more. They can have any format, as well, such as multiple choice, fill in answers, and more. The usefulness of the cards comes when teachers want their students to practice a skill that they have been taught. Task cards can help with mastery of difficult skills when used effectively. The tasks are usually simple in the lower grade and can become more complex as students mature and can work on their own for longer periods of time. There are also many different ways to use Task Cards.
Task cards are simply that – cards that have a task on them for students to complete. Task cards come in sets to allow you to target a specific skill, standard, or subject. You can use task cards in any subject area, but they are most commonly used in reading, writing, and math.
Task cards are also perfect for students who benefit from tactile exercises in the classroom. The interactive nature of the them provides students with a sensory experience that they would not receive through paper and pencil tasks alone.
Synonyms are words that have almost the same meaning while antonyms are words that have the opposite meaning. See below for more information and examples of synonyms and antonyms.

Synonyms
A synonym is a word that means exactly the same as, or very nearly the same as, another word in the same language. For example, "close" is a synonym of "shut". They are words that have almost the same meaning. For example:
That storm cloud is huge!That storm cloud is enormous!

Antonyms
An antonym is a word that means the opposite of another word. For example "bad" is an antonym of "good". They are words that have the opposite meaning.
For example:
I love the rain!I hate the rain!
Synonyms and antonyms are useful to know because they improve reading and writing skills. And since words represent thoughts, it can plausibly be stated that they allow students to understand the world at a deeper, richer level.

 It is important to remember that synonyms are not words that have the same meaning, but rather, words that have similar meanings. This means that by learning synonyms, students learn to differentiate between shades of meaning. This enables them to be more precise.

 In addition, by learning antonyms, students learn the logical opposites of important words, thus enhancing their overall command of language.
A deep love for task cards runs rampant in classrooms across the nation, but why are they so beneficial? If you're new to the task card concept, it is helpful to understand why these little gems have become so popular in recent years.
The true beauty lies in their versatility and focus away from traditional worksheets or boring reviews. Designed with two or four questions per page, each question is set apart on an individual card. Though each card may require a two or three-part answer. Most task card products come with an answer sheet as well as an answer key. I also include anchor charts (informational pages) for use as instructional aids or reference
Samples From the Cards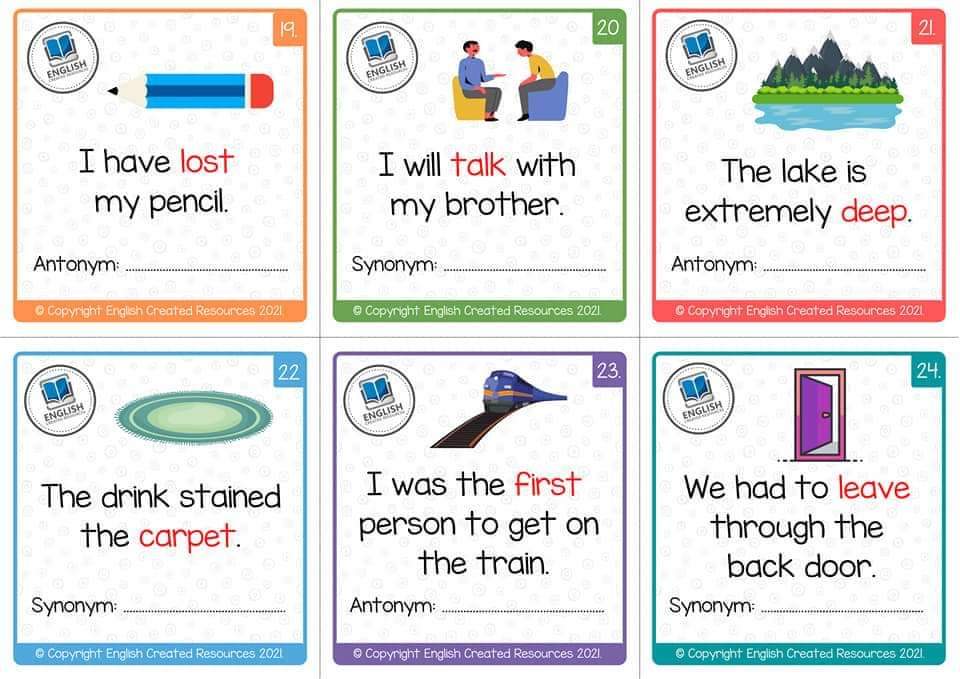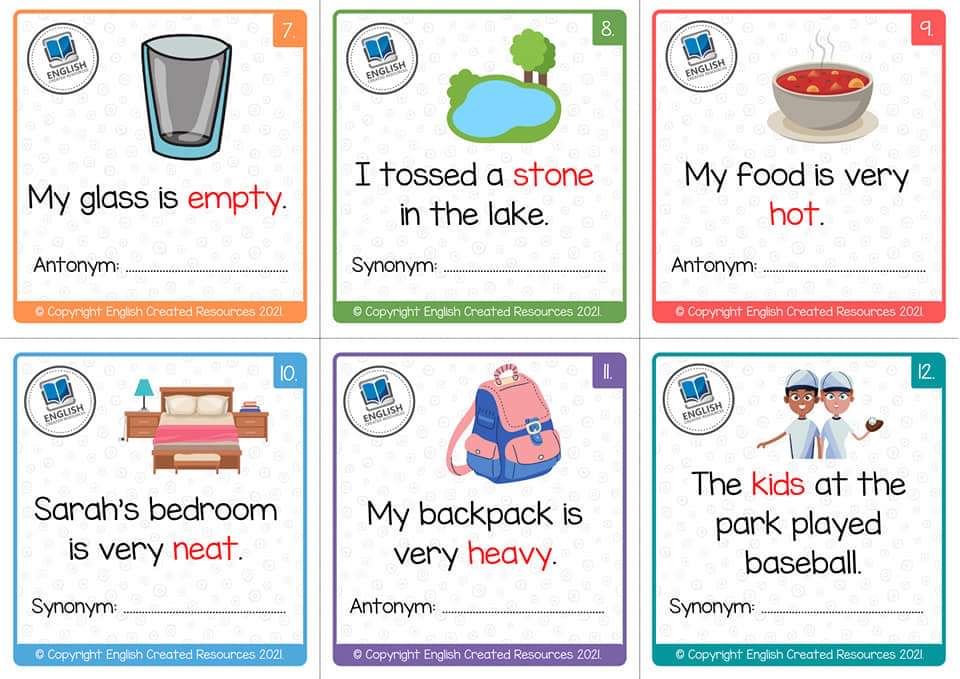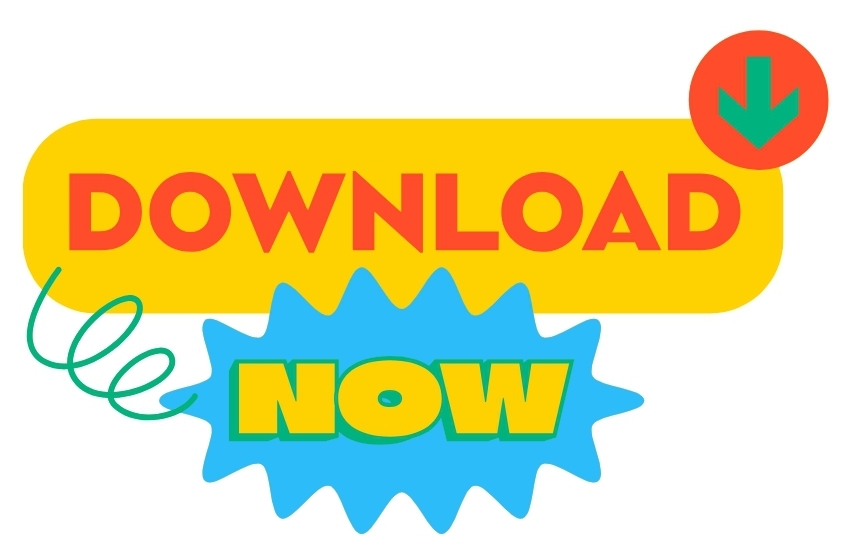 Synonyms & Antonyms Task Cards. In these worksheets, students are tested on their ability to identify the antonym, or opposite, of a given word. While it helps to have knowledge of word meanings, this is not completely necessary in most cases. Rather, students can rely on their use of logic and verbal reasoning skills to answer questions correctly.